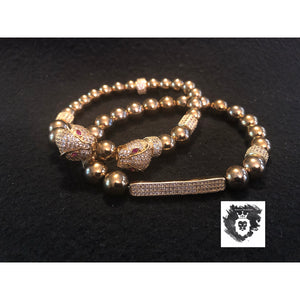 The Latin phrase "Fortis Fortuna Adiuvat", literally translates to, "Fortune Favors the Bold." Or in other words those who are strong, courageous, and bold possess the best blessings Life has to offer. What's bolder than Twin Tigers? Harness the boldness and strength of the tiger in this unique bracelet stack. Take action on your goals. Push yourself further! Go harder! Be Bold! This exquisite bracelet stack has two 18k overlaid CZ encrusted tigers with stunning red eyes. If thats not enough, this exclusive handmade stretch bracelet stack is strung with Gold Hematite Beads and 18k overlaid CZ encrusted Round and Hexagonal Bling spacers to offer a bold finish with Bling Bar.
8mm Gold Hematite
10mm Gold Hematite
18k overlaid CZ encrusted Tigers
10mm 18k Gold overlaid spacers w/CZ's
10mm 18k Gold overlaid Hexagonal spacer w/CZ's
18k overlaid CZ encrusted Bling Bar
Handmade stretch design
* Luxury Line 
Be on your bracelet-bully with this one!